So it's no internet, no phone, no groceries for the next 8 days. Not that we wanted to ditch you all. Just that yesterday we found out that the next part of this trip, cycling the icefield parkway, was a path without any phone connection and without any grocery shops, or any shops for that matter. Just self check-in campsites every 30km and a little restaurant every 50km. Which is a nice short break when you are driving the 240km or even just adults cycling 100 km a day… but when you naïvely decide to do this with your little kiddos on their own bikes and therefore will average 30km a day because it's quite mountainous, that's 8 days of food to drag and a day of panicking and rethinking your sanity. At least if there wasn't all this wildlife around, it wouldn't be so nerve wracking… so we hesitated a little but decided to go for it anyway. So here we go folks…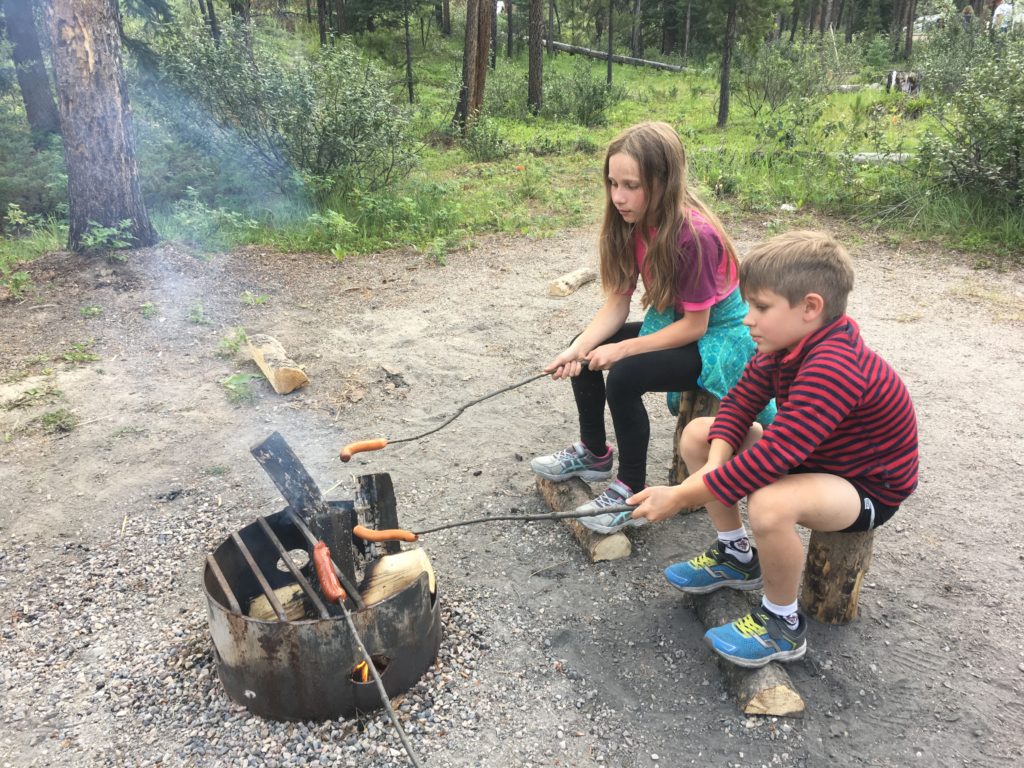 It's incredible how you learn to reduce and reuse when you are on such a bicycle trip. Once I realized that I would have to feed my kiddos for the next 8 days, what I already thought was the minimum I had reduced our stuff to, all of a sudden had a whole new look. I was able to empty out a whole luggage of clothing that I shipped home in the mail so that we can make room for food. It's pre-cooked pasta envelops and granola bars for the next stretch.
So we hopped on our bikes, saw a beautiful fox this time and started our journey on the Icefields Parkway. Someone advised us to take the more quiet road, the 93A to begin our journey. She was right, it was very quiet. So quiet that it was just us and the bears for the first 30 km. We saw a mama bear and her horrifyingly cute cub climb up a tree when they heard us cycle right beside them. And we saw two other bears at separate occasions along the way. I have to say, my heart was pounding the whole time and I was missing my mommy and her hard sound advice to stay put for once in safe LaSalle.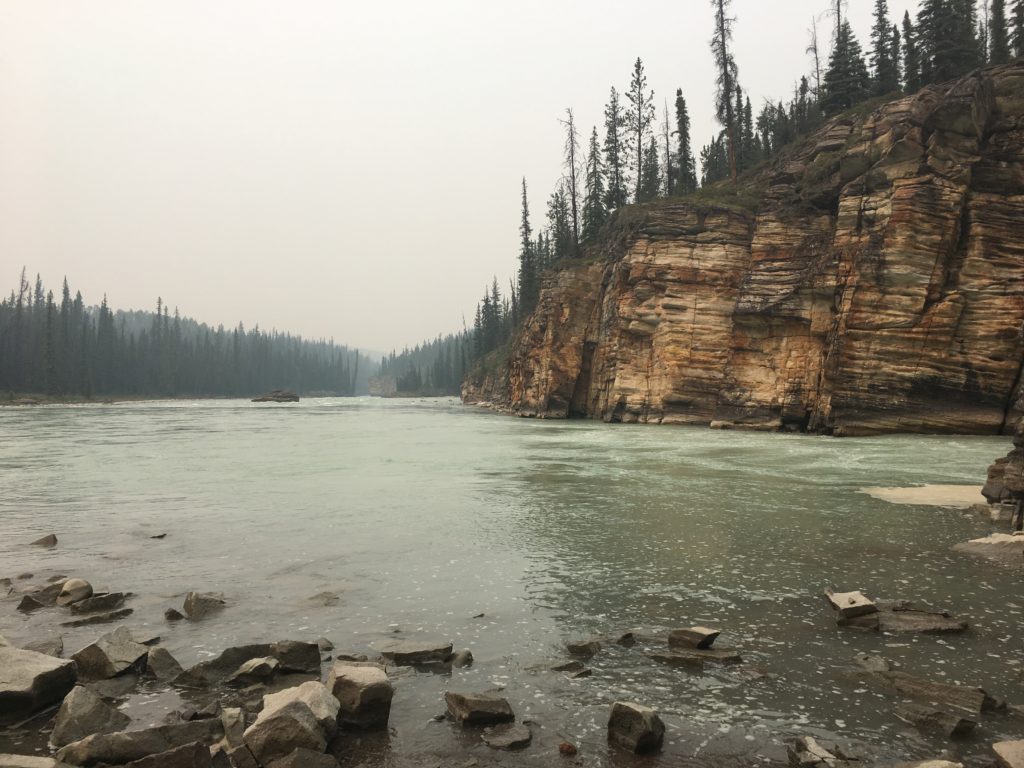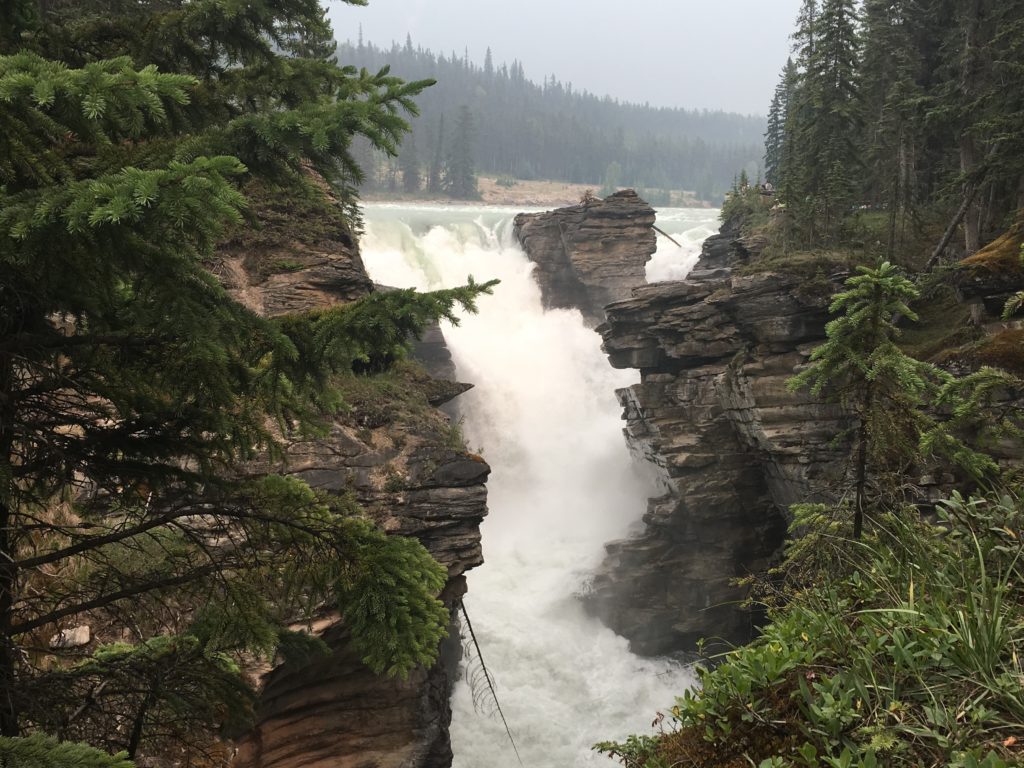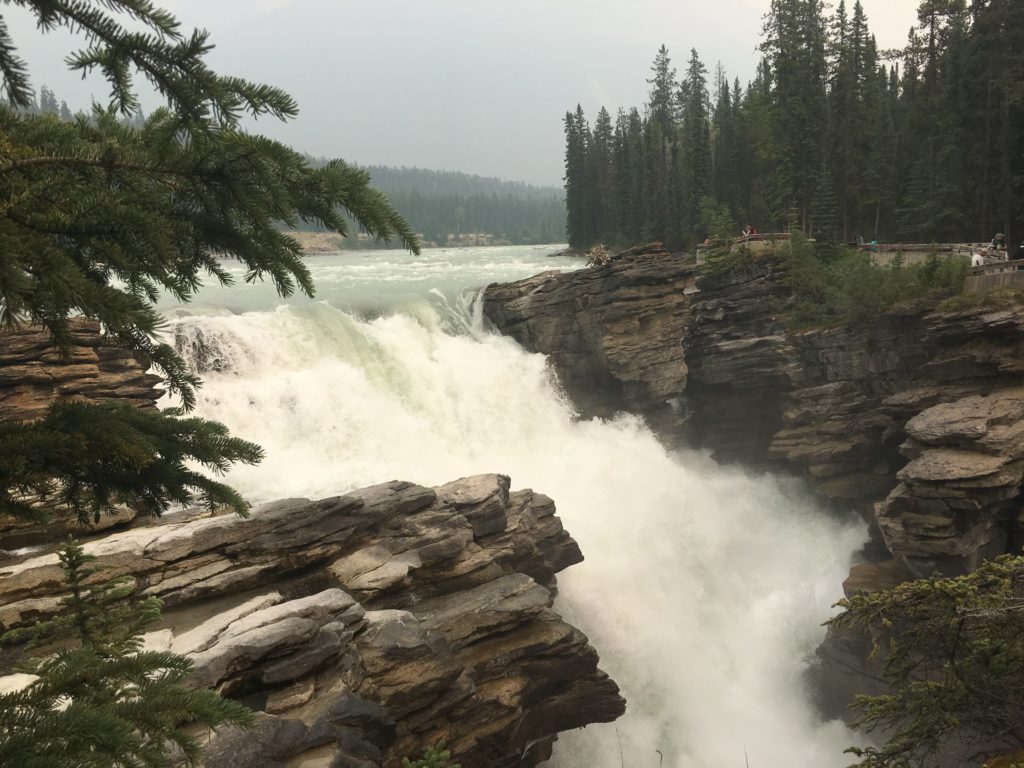 So we sang our lungs out, any bit of song we couldn't remember the words too, we just sang it in our not very melodious voices. Apparently, it's the best way to keep bears away, sing and talk loudly so that the bears hear that humans are coming so they stay away. We sounded so awful, i'm pretty sure no bear could bare to listen to our racket. In addition to running out of ideas of what to say, it is so hilly here so we also ran out of breath trying to sing while cycling up one hill after the next.
Luckily, our buddies from Montreal came to meet us for a little visit at kilometer 30 of the parkway. So we spent the next 3 hours visiting the beautiful Athabaska falls with them, having a BBQ at our campsite and chitchatting with them. Nice end to our first bike stretch in the Rockies!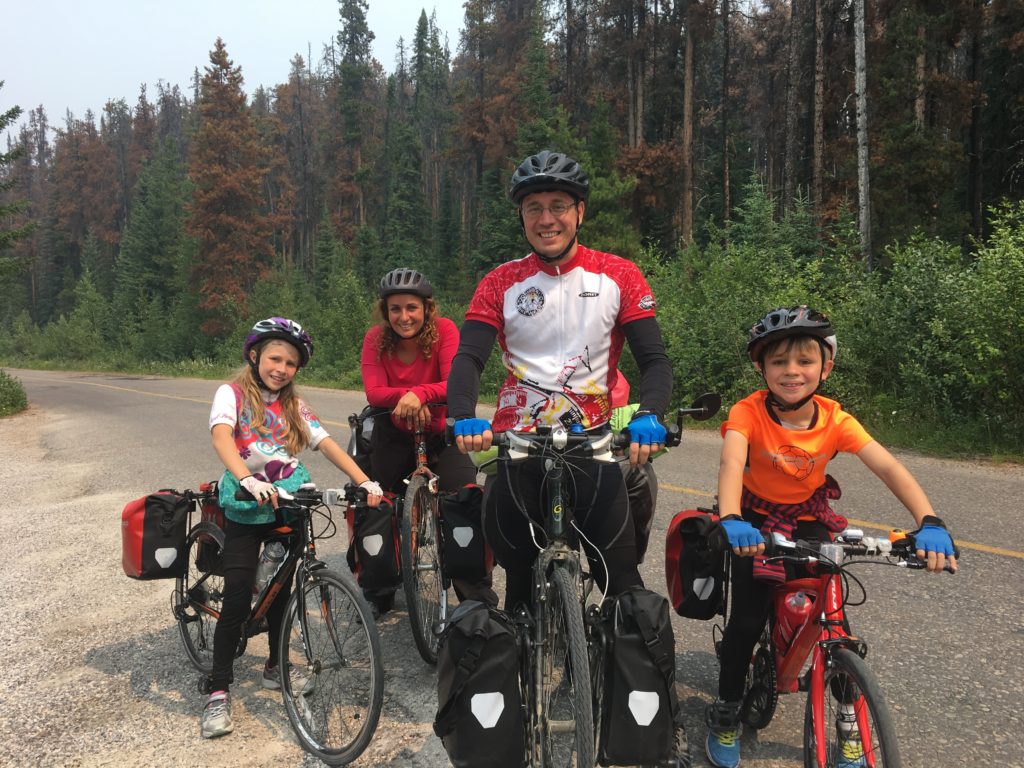 The next day, we had to bike 43km to our next camping. And to be honest, the first 20 km were quite challenging, and I think our kids were missing BC with the smaller hills and the warm beds at the end of the journey thanks to WarmShower's hosts. It's uphills and camping for this whole bit. Not so easy to do that 40km now. Luckily, a group of Japanese cyclists saw us and took quite a liking to my children. They offered to take all of our baggages to our next campsite so we can attack the hills with a lot less weight. So nice of them! We often say "do not talk to strangers", but in this journey, thank God for strangers, they have been life savers. So we trusted a group of strangers with all our life's belongings, our tent, our food, all of clothes. They took them all in the caravan that was spotting them and off they went with all of our stuff!
Well, that was a huge break! At the 50km mark, we stopped at THE restaurant on the way. We had a nice warm meal. It cost a fortune but it was worth it. We were energized and our bikes were light so we pedaled with lots of energy to our next campsite.
Our bags were there waiting for us.
We were about to make our food on our little camping stove we carry, when a couple in a campervan just besides our site offered us baked beans and Kraft dinner. So it's not gourmet, but hey, we were starving and tired from a big bike ride, so this kind offer was most welcome! Off to sleep in our tent for another night. It's hot during the day, but it goes down to 3C at night and I am really happy we got warm sleeping bags and a nice tent for this trip. Thanks to all our family for the great tent, it's really appreciated! Brrr!